■Operating Hours&Closed
Operating Hours
Mon.−Fri.
9:30a.m. - 4:45p.m.
 
Sat.
9:30a.m. - 12:00p.m.
 
Closed
Sun. holiday
 
and Dec. 28 - Jan. 4
 
Library re-organizing day
■About Reading
・You can read books and documents only in the library.
・Books or documents cannot be brought out of the library.
・If you hope to visit our library, please reserve in advance (by the previous day).

・Please treat documents or books with care.
・Do not drink or eat in the reading room.
・No smoking in the library.
・You can bring your computer into the library, but the Internet is not available.
・Do not take any photo of documents or books.
・Please care about other users, and refrain from making a nuisance.
■Internet Book Searching Service

・You can search for books or documents on the Internet.
■Copy Service of Books and Documents
・We offer copy service of books and documents, which are in the library, to individual whose purpose is research and study, as far as Copy Rights Act permits.

・We also offer delivery of the copy. Please tell us the name of books or documents and the range of copy you want. Please download the registration form below, fill it as far as you can, and send it to our foundation by e-mail or a fax. We will call or send e-mail to you, and make the copy you want.


 Registration form   Registration form(pdf)  Registration form(word)
 Entry example       Entry example(pdf)
 ※Sorry, this content is not available in English, only in Japanese.
Copy Service (Only mono-colored, and to A3 size)
Fee: 30yen a sheet of paper (If you apply from the Internet)
(In addition to this fee, if you want delivery, please pay delivery fee.)
After confirming your payment, we send you the copy.
*you can apply for the copy to 50 sheets of paper.
Reception Hours: 9:30-12:00, 13:00-16:00

※Caution:
If the state of document is bad, we may refuse to copy for protection of the document.

■Currently, we do not receive donation of documents or books.
■Address of Ikeda Library
Tsushima Memorial Training Center 1F
In the library of Japan Care Career College's Institution No.2
〒062-0021 Tsukisamu Nishi 1 jo 4 chome 3-1, Toyohira Ward, Sapporo City
5 minutes' walk from Tsukisamu-Chuo station, Toho Line, Sapporo City Subway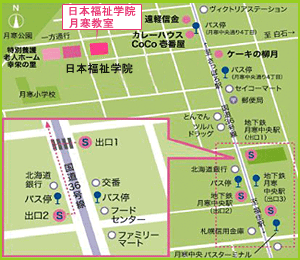 ■Please ask us――――――――――――――
Tsushima Health Care and Welfare Research Foundation
tel:81-11-885-8244 E-mail:ikeda-library@tsushima-zaidan.org
※Sorry, this content is not available in English, only in Japanese.